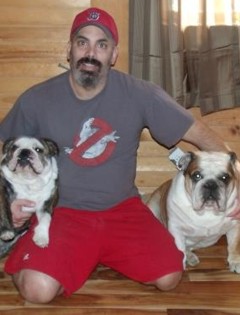 Mark Tufo is an author from Boston, Massachusetts.
He attended UMASS Amherst where he obtained a BA and later joined the US Marine Corp. He was stationed in Parris Island SC, Twenty Nine Palms CA and Kaneohe Bay Hawaii. After his tour he went into the Human Resources field with a worldwide financial institution and has gone back to college at CTU to complete his masters. He has wrote the first installment of the Indian Hill trilogy in college, it sat in his garage until July 2009 when he published it on Kindle. He has since written the Zombie Fallout series and is working on a new zombie book.
He lives in Maine with his wife, three kids and two English bulldogs.
Ad blocker interference detected!
Wikia is a free-to-use site that makes money from advertising. We have a modified experience for viewers using ad blockers

Wikia is not accessible if you've made further modifications. Remove the custom ad blocker rule(s) and the page will load as expected.