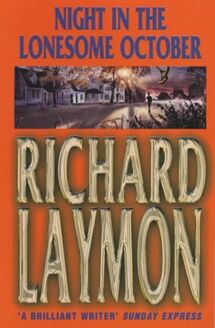 Night in the Lonesome October is a novel by Richard Laymon first published in 2001. It was partnered with No Sanctuary in volume 16 of the Richard Laymon Collection.
Ed Logan can't wait for his second year at Willmington University. It's been a long summer without Holly, the girl he have his heart and soul to last year. In turn, she fell in love with him - at least that's what she said.
In September, Ed returns to campus.
Holly doesn't.
On the first of October, Ed receives a letter.
"Dear Ed," it begins, "I will always cherish the times we had..."
Holly has fallen in love with someone else and won't be coming back.
Heartbroken, half mad with despair, Ed can't study, can't sleep.
So he leaves his apartment and takes a walk.
It's a scary night in the lonesome October and Ed is not alone. There are oithers out there - roaming the streets, lurking under bridges, seeking prey.
Then he sees the mystery girl...
Ad blocker interference detected!
Wikia is a free-to-use site that makes money from advertising. We have a modified experience for viewers using ad blockers

Wikia is not accessible if you've made further modifications. Remove the custom ad blocker rule(s) and the page will load as expected.