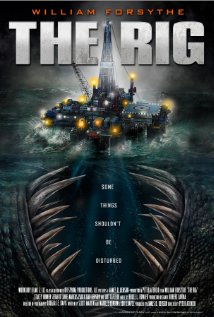 The Rig is a 2010 American film.
As a hurricane rages outside, the small but experienced crew of an oil drilling rig settles in to ride out the storm. Isolated on the rig, their calm is short lived when a crew member goes missing and an extensive search proves futile. Slowly, they discover that a deadly creature is stalking the skeleton crew, eliminating them one by one. Surrounded by nothing but raging ocean, their communication severed and no way off the rig, the roughnecks try to survive the stormy night with an unrelenting force of death hunting them down.
Ad blocker interference detected!
Wikia is a free-to-use site that makes money from advertising. We have a modified experience for viewers using ad blockers

Wikia is not accessible if you've made further modifications. Remove the custom ad blocker rule(s) and the page will load as expected.