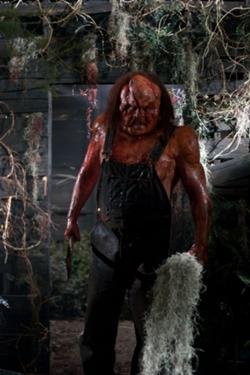 Sampson Duston - Ripped apart
Ainsley Duston - Guts ripped out, torn in half
Jim Permatteo - Sliced in half with hatchet
Shannon Permatteo - Jaw ripped off
Doug Shapiro/Samuel M.Barrat - Head twisted off
Shawn - Decapitated with shovel
Jenna - Jaw torn off with belt-sander, impaled through back on shovel
Misty - Head torn off/dismembered
Marcus - Head smashed into tombstone
Jack Cracker - Hand in left stomach area, innards ripped out/chokes with small intestines/head pops off
Hunter #1 - Pulled away, hacked up with hatchet
Hunter #2 - Head cut in half with hatchet
Hunter #3 - Jaw ripped off
Hunter #4 - Face cut off with hatchet
Hunter #5 - Speared through mouth
Chad - Lower half of face/jaw beaten open with hatchet
Cleatus - Face ripped apart by boat propeller
Layton - Decapitated with hatchet
Avery - Hit in crotch/chest with hatchet
John - Cut in half with chainsaw
Vernon - Cut in half with chainsaw
Justin - Hatchet thrown into back, back of head torn open/brain gored with belt-sander/blood loss
Trent Graves - Decapitated at jawline by curb-stomp on table
Uncle Bob - Mutilation
Reverend Zombie - Cut 11 times with hatchet, torn out of skin
Randy - Electrocuted with defribrillators till head explodes
Deputy Hamilton - Head hatcheted in half
Firemen #1 - Killed
Firemen #2 - Killed 
Firemen #3 - Killed 
Firemen #4 - Killed 
Paramedic #1 - Killed 
Paramedic #2 - Killed 
Paramedic #3 - Killed 
Fireman - Arm ripped off
Paramedic - Chest hacked with hatchet
Fireman - Disemboweled
Paramedic - Mouth impaled by stub tree branch
Deputy - Impaled by spear and thrown through wall
Officer - Speared through chest, dragged into house and thrown through wall
Deputy Elbert - Ripped in half
Officer - Beheaded with hatchet
SWAT Officer - Hacheted in head
SWAT Officer - Leg chopped off, falls on ground
SWAT Officer - Hatcheted in chest, thrown to ground
SWAT Officer - Head stomped in
Tyler Hawes - Spine and skull ripped from body
Deputy Schneiderman - Drowned in puddle
Ben - Hatchet thrown into head
Sheriff Fowler - Beheaded by gas sander
Doughetry - Organs pour onto floor with part of body
Deputy Elliot Winslow - Chest ripped open
Amanda Fowler - Head ripped off
Marybeth Dunston - Impaled on tree branch
Ad blocker interference detected!
Wikia is a free-to-use site that makes money from advertising. We have a modified experience for viewers using ad blockers

Wikia is not accessible if you've made further modifications. Remove the custom ad blocker rule(s) and the page will load as expected.